Carolyn Heilbrun (Academic/Feminist/Author)
Categories // Profiles & Bios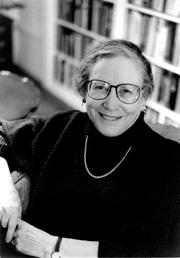 Carolyn Gold Heilbrun (January 13, 1926 in East Orange, New Jersey – October 9, 2003 in New York City) was an American academic and prolific feminist author of both important academic studies and popular mystery novels under the pen name of Amanda Cross.

Heilbrun attended graduate school in English literature at Columbia University, receiving her M.A. in 1951 and Ph.D in 1959.

Among her most important mentors were Columbia professors Jacques Barzun and Lionel Trilling, while Clifton Fadiman was an important inspiration: she wrote about these three in her final non-fiction work, When Men Were the Only Models We Had: My Teachers Barzun, Fadiman, Trilling (2002).

Heilbrun taught English at Columbia for more than three decades (1960-1993). She was the first woman to receive tenure in Columbia's English department (not unlike Trilling, who had become the first tenured Jew in that department less than two decades earlier).


Her academic specialty was British modern literature, with a particular interest in the Bloomsbury Group. Her academic books include the feminist study Writing a Woman's Life (1988). Upon her retirement in 1997, she was Avalon Foundation Professor in the Humanities Emerita at Columbia.

She was the author of fourteen Kate Fansler mysteries, written under the name Amanda Cross. Fansler, like Heilbrun, was an English professor. Heilbrun kept her second career as a mystery novelist secret in order to protect her academic career, until a fan discovered "Amanda Cross"'s true identity through copyright records.

The novels, all set in academia, often were an outlet for Heilbrun's view on feminism, academic politics, and other political issues. Death in a Tenured Position (set at Harvard University) was particularly harsh in its criticism of the academic establishment's treatment of women.

Heilbrun was born in East Orange, New Jersey to Archibald Gold and Estelle Roemer Gold, and moved to Manhattan as a child.

She graduated from Wellesley College in 1947 at the top of her class. She married James Heilbrun (1923-2008) during World War II, and they had three children. Heilbrun committed suicide at her apartment in New York City in 2003.

According to her son (novelist Robert Heilbrun) she was not ill, but felt that her life had been completed. A nearby note read "The journey is over. Love to all."

Related Links:
Carolyn Heilbrun on Wikipedia