A Eulogy for Judy O'Sullivan
Judy - Oh what a wonderful friend and colleague.

Judy once told her sister that she became a teacher because it was a profession that offered and adequate income yet gave her the summers off. However we know she stayed with it because she cared so much for all the children. Judy gave more than her expertise. She gave her love. All children were cherished.
She worked mostly with students for whom learning was hard work. She praised them. She encouraged them. She hugged them and she would say 'How smart you are'. She made them fee special. Judy was a good person who saw the good in everyone. She helped and supported her colleagues. She allayed the worries of parents by listening, and kindly reassuring them the value of their child.
In 1980 Judy joined the staff at the WA Day Elementary School and because an integral part of the educational community in Fort McLeod, and what was later to become the Livingstone Range School Division under the superintendency of Lloyd Cavers. When he dropped by the school, Lloyd would always visit Judy's classroom. I think they talked as much about horses as they talked about school matters.
With her help and guidance the WA Day School held an annual PowWow as part of a multicultural celebration. She invited dancers, drummers and elders who contributed to much to its success. Each year she would assure me not to worry - everything will work out fine. With the help of Wayne Plume and Peter Big Head the annual event was the highlight of the school year for many students and parents, and especially for Judy. 

Judy had excellent assessment and organizational skills and was a knowledgeable researcher and report writer. She was a respected teacher, administrator and mentor who volunteered her services to help others become better at their profession.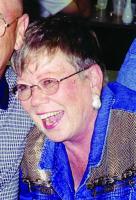 She was a life-long learner and in recent years pursued a keen interest in Edu-K and Brain Gym, the study of mind/body awareness. A simple warm-up is crossing the mid-body line – right hand to left knee, left hand to right knee and so on. Actually, I think it was Judy's excuse to dance with her students.
Judy was so much fun. She had a laugh and a coy giggle often punctuated by 'Oh Stop'. She quickly brightened the day for anyone she met. 

After retiring from the WA Day School in 2002, Judy returned to the Standoff Saipoyi Elementary School where she continued to fulfill her passion, teaching young children. The Kainai Board of Education grieves her loss and appreciates her wonderful years of service and excellence as a teacher.
Judy, what a wonderful friend to all, yet her uniqueness was to be a friend to each of us. At this point Judy would undoubtedly say, "John, it behooves me to say you've said enough."
To Roy, Judy's sisters and extended family may the Lord Bless and keep you in his care. Judy, spirit of gentleness, shine through the wilderness, peaceful and free.


(Read the story Judy's sister Wanda wrote about Judy's life, and the letter she wrote to Judy's friends about her cancer and passing.)